Oh, Capri.
Día de Los Muertos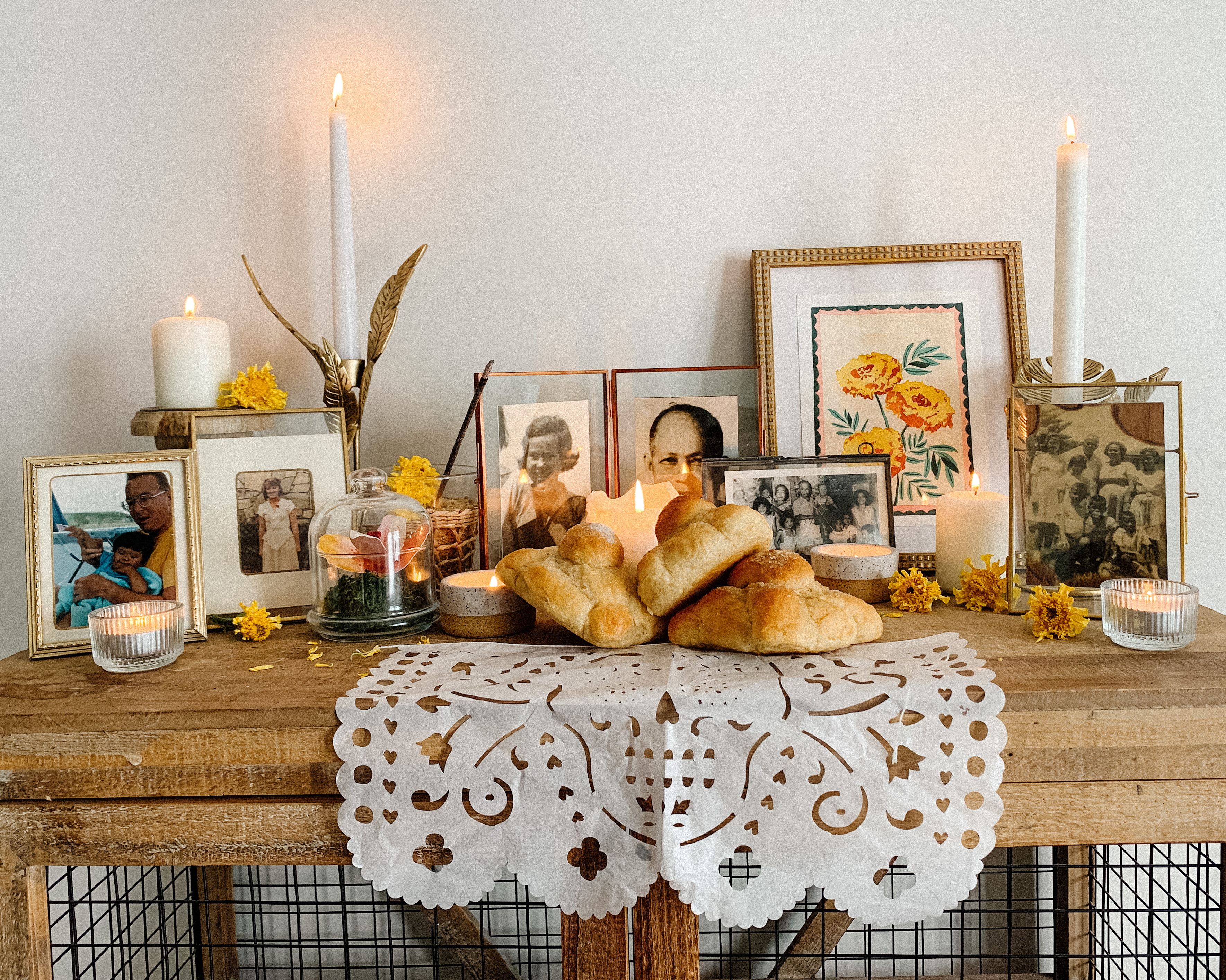 Throughout Southern Mexico and in homes all over the world, a beautiful indigenous Mexican tradition is celebrated on November 1st and 2nd.  This tradition dates back to pre-Mexican Aztec culture, where death was honored and celebrated as an extension of life.
Today, this ritual of maintaining a meaningful connection to loved ones who have passed is still observed during Día de Los Muertos (DEE-ah deh lohs MWEHR-tohs) , or The Day of the Dead!  It is believed that, at midnight on October 31st, the gates of Heaven are opened and the spirits of our loved ones are able to pass through and be temporarily reunited with us!  When observing this beautiful holiday, you set up an ofrenda, or altar, in your home or at their gravesite (or both) to guide them home.  Upon your altar, you place food and flowers, and light candles and incense to welcome and nourish them after their long journey.  
Día de Los Muertos is an opportunity to reminisce and to celebrate their lives, rather than mourning death.  It's also a time to think about your own mortality and what kind of life you hope to live.
If you purchased a Día de Los Muertos Celebration Box, you have lots more information on what goes on an ofrenda and the symbolism behind the elements and rituals that make this holiday so special.  Your box includes everything that you need to set up your own ofrenda.  Take the opportunity to build upon that- to personalize it and add elements that are meaningful to you and the people you're honoring!
Once you've put your ofrenda together, take time to share stories about your loved ones, and also give gratitude to the Mexican people for their culture, their contributions to the world, and for how Dia de Los Muertos teaches us another way to look at the cycle of life and death.  
Holidays are about connection so I want to see your ofrenda and hear your stories, too! Please tag me if you post anything on Instagram. I would love to be a small part of your celebration!
Below, you will find links to:
Mexican-owned small businesses where you can buy everything you need for your ofrenda (including the shops featured in the celebration box)
I chose these tutorials because they were made by members of the Mexican community.  They are in Spanish, but they are easy to follow even if you don't speak it!  When we don't have much interaction with people from communities outside our own, it's impossible for us to see them fully.  One way to fix that is by seeking opportunities to interact with what is unfamiliar to us.  This is a super easy way to do that. You can absolutely find these tutorials in English by people (like myself) who are not Mexican but love these elements of Mexican culture.  But, with very little effort, you can go straight to the source and support the community to whom these traditions belong and give gratitude for their willingness to share them with the rest of the world!
That is the purpose of my celebration boxes- to facilitate positive exposure to something new, to give credit where it's due, to support that community and to create a greater sense of connection to them.

 
Mil gracias to Maura Hernandez and Braelynn Beltran Tuitupou for their invaluable input on these celebration boxes.  This is a huge passion project for me and I knew that I couldn't move forward without representation and guidance from voices within the Mexican community.  
Please, take some time to scroll through Maura's amazing food blog and try some more of her Mexican recipes!  If you want to be overwhelmed by beauty and love, look no further than Braelynn's instagram where she shares her work making dreams come true for a living.  She's an incredible wedding planner whose work is often inspired by her Mexican heritage!
Amor para siempre!